Request Information
To learn more about BeeHive Homes, contact us below.
Private Rooms
At BeeHive Homes we are certainly a family. However, everyone needs privacy from time to time and for this reason, BeeHive Homes offers each resident their own private room. We encourage residents to bring their own furniture and decoration to make their home, truly their home.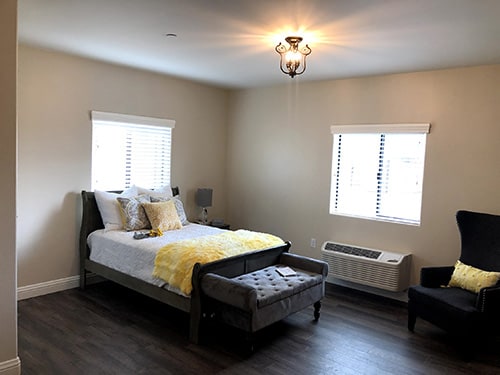 Private Bedroom and Bath
Private Bedroom and Bathroom
All of the rooms and suites at BeeHive Homes are either private or semi-private rooms. In fact, most of our BeeHive Homes assisted living locations are able to offer couples suites. Each of our private bedrooms comes with a private bathroom. These bathrooms are private, safe, and secure for the comfort of each resident. Most of the BeeHive bathrooms offer a roll-in shower with a lift-up bench seat. In fact, many locations offer a built-in heater so your loved one will not get cold while showering. For the safety of residents, you can also expect grab bars by the toilet and in the shower.
Private Bathrooms
Additional Room Amenities
We know that each resident likes to have the room temperature in their room set to their own preference. For this very reason, we offer a personal AC and heater in each room so the resident has control over his or her own room temperature.
Every BeeHive room is cable-ready and each home offers free wifi service for smart TV and internet access. Phone hook-ups are also available in most locations.
Please inquire with the location you are interested in for a complete list of room amenities. Not all homes offer the same features.
Learn More