Request Information
To learn more about BeeHive Homes, contact us below.
Assisted Living San Antonio Can Trust
Are you or a loved one seeking a harmonious blend in assisted living San Antonio offering personal autonomy and daily living support? Our respected and highly rated assisted living community is thoughtfully designed for those who cherish their independence and can benefit from assistance with daily activities. Nestled up against the beautiful Crownridge Canyon Park in picturesque Northwest San Antonio, Texas, BeeHive Homes is more than just a residence; it's a warm and welcoming haven where residents experience personalized care and engaging opportunities. Our assisted living services have garnered a reputation for excellence, earning the trust of families throughout San Antonio.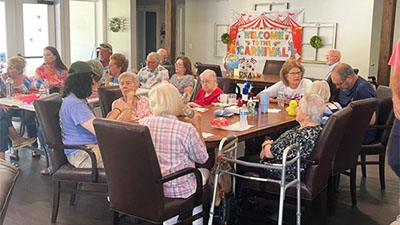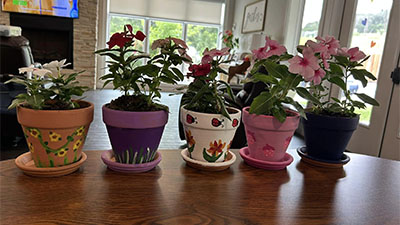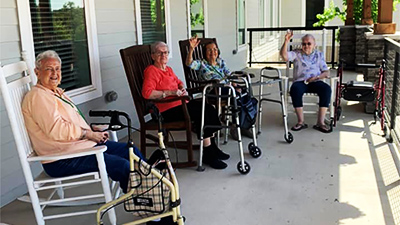 BeeHive Homes of Crownridge is ideal for those seniors who value their independence with the additional benefit constant care and assistance with activities of daily living. Our residents enjoy 24-hour care, private bedrooms and bathrooms, medication management, fantastic home-cooked dietician-approved meals, housekeeping and laundry services, and a variety of daily activities. We are conveniently located just north of the La Cantera golf course surrounded by the beautiful landscape of Texas hill country unique to San Antonio. If you are searching for Crownridge assisted living, Leon Springs assisted living, Fair Oaks Ranch assisted living, Dominion assisted living, Boerne assisted living, Helotes assisted living, Shavano Park assisted living, or Stone Oaks assisted living look no further than BeeHive Homes of Crownridge quality assisted living!
The BeeHive Homes Difference
At BeeHive Homes of Crownridge in San Antonio, we offer the finest assisted living experience available in a cozy, comfortable homelike setting. Each of our residents has their own spacious room with a bathroom and shower. We prepare and serve delicious home-cooked meals three times a day every day. We maintain a small, friendly community of only 16 residents per home and provide regular activities that our residents find fun and contribute to their health and well-being. Our staff is attentive and caring and provides assistance with daily activities to our residents in a loving and respectful manner.
Embrace the BeeHive Homes Assisted Living Difference
When you make the choice to call BeeHive Homes of Crownridge your loved one's home for Assisted Living, you're embarking on a transformative journey. It's not simply about selecting a facility; it's about becoming part of a vibrant and caring community where your family becomes our family. At BeeHive Homes, we redefine the very essence of senior care, creating an environment where the well-being of your loved one takes precedence above all else.
At the heart of BeeHive Homes of Crownridge is a commitment to creating more than just a care facility. We create a true family. From the moment your loved one steps through our doors, they become cherished members of our extended family, and our caregivers treat them with the same level of care and compassion they would provide to their own loved ones. Here, your family becomes our family, and our home becomes their home.
Our vision is to create an atmosphere where compassionate care seamlessly intertwines with the spirit of independent living. We recognize the importance of independence and work diligently to preserve and empower it for each resident at BeeHive Homes of Crownridge. Your loved one's well-being is not just a duty; it's a calling that we wholeheartedly embrace.
Choosing the Right Assisted Living Home in Texas
Selecting the right assisted living facility for your loved one is a significant decision. We believe that proximity matters, and our community is thoughtfully designed to ensure that your family member receives the personalized attention they deserve.
Our commitment to your family extends beyond care; it's about nurturing connections and engaging hearts and minds. At BeeHive Homes of Crownridge, we believe in the power of community. Our small home setting fosters a genuine sense of belonging, where residents form meaningful relationships with both caregivers and fellow residents. From sharing stories around the dining table to participating in engaging activities, our community is a canvas for creating cherished memories.
Independence with Compassionate Support: We understand that independence is a treasure in life, and we are unwavering in our commitment to safeguard it for every resident at BeeHive Homes of Crownridge. Our assisted living program is thoughtfully designed to empower residents to lead life on their terms while receiving the support they require. Whether it's assistance with daily activities, medication management, or simply a helping hand, our caregivers are available 24/7 to ensure your well-being.
Private Bedrooms for Personal Comfort: We understand the significance of having a personal space where you can feel completely comfortable and at home. This is why our assisted living facility in Crownridge offers private bedrooms with baths. These well-appointed rooms provide the privacy and dignity that you deserve, creating a warm and welcoming atmosphere where you can truly be yourself.
Nutrition and Wellness: At BeeHive Homes of Crownridge, we deeply value the importance of nutrition and wellness in senior care. Our residents savor delightful home-cooked meals, meticulously crafted and approved by dietitians. We believe that a well-rounded diet is vital for both physical and emotional well-being. Meals at BeeHive Homes of Crownridge are more than sustenance; they are a source of joy and comfort.
Engaging Social Activities: Life is meant to be embraced fully, regardless of age. That's why we offer a diverse array of engaging social activities tailored to various interests and abilities. From group outings to daily exercises, there's always something enjoyable happening at our assisted living facility in Crownridge. We firmly believe that staying active and socially connected is the key to a fulfilling life.
Peace of Mind with Medication Management: Medication management is a pivotal component of our Assisted Living program. Our seasoned team takes this responsibility to heart, ensuring that all prescribed medications are administered at the correct time and in the proper manner. With BeeHive Homes of Crownridge, you and your family can have peace of mind knowing that your health and well-being are vigilantly monitored.
A Community Rooted in Trust and Compassion: Our dedication to providing peace of mind to families extends to every facet of our Assisted Living program. We understand the unique challenges and uncertainties that accompany the aging process, and we are well-equipped to address them. With 24-hour support, you are never alone. Our caregivers are always close by, ready to assist with any needs that may arise, day or night.
Veteran Assistance: We honor all veterans who have served our great country. We partner with Senior Care Associates to assist veterans who have not claimed a Veteran Aid & Attendance benefit which can be applied to the costs of assisted living care.
Welcome Home: Making the Transition
Contact us today at 210-874-5996 to learn more about our Assisted Living services and how we can cater to your unique needs. BeeHive Homes of Crownridge is your trusted partner in assisted living, where family is at the heart of everything we do. Welcome to our warm and inviting community, where every day is an opportunity to thrive in the company of kindred spirits.
Here at BeeHive Homes of Crownridge your comfort, well-being, peace of mind and happiness are our top priorities. Discover the quality assisted living San Antonio residents deserve. Discover the BeeHive Homes difference today. Our small-home feel, personalized care, and warm community await you or your loved one. Join us in Crownridge, where assisted living San Antonio is redefined and experience elderly care at its finest.