Request Information
To learn more about BeeHive Homes, contact us below.
The BeeHive is Always Buzzin!
At Beehive Homes of Lakeville, our mission is to understand our residents through a person-centered culture. We want to learn their backgrounds, interests, and personalities to individualize activities that are best suited for them.
We provide activities in group settings as well as on an individual basis to meet both the social and individual interests. This flexibility is a huge benefit of the BeeHive's home-like environment. Staying active and involved is the key to healthy living. Because we personalize your life enrichment experience, we know you will always enjoy the perfect fit for you.
We care and support our residents by allowing them to follow their own routines and rituals, just like AT HOME! We spend time to know the residents personally. We always listen and engage. Making meaningful connections with our residents is an important part of our care.
Our activity program is based on the 7-dimensions of wellness. Physical, emotional, intellectual (cognitive), social, spiritual, environmental, and occupational (vocational) wellness. By having a balance of each dimension, we help improve the quality of life as each dimension affects and overlaps with others. Physical, emotional, and intellectual wellness are practiced every day and the rest are incorporated into the activities calendar.
Some of the most popular activities are:
Gardening
Using a sense of smell, touch and sight, the residents enjoyed getting their hands dirty and watching our little garden come to life during the warmer months. This summer, we had our first annual garden! Half herbs and half flowers.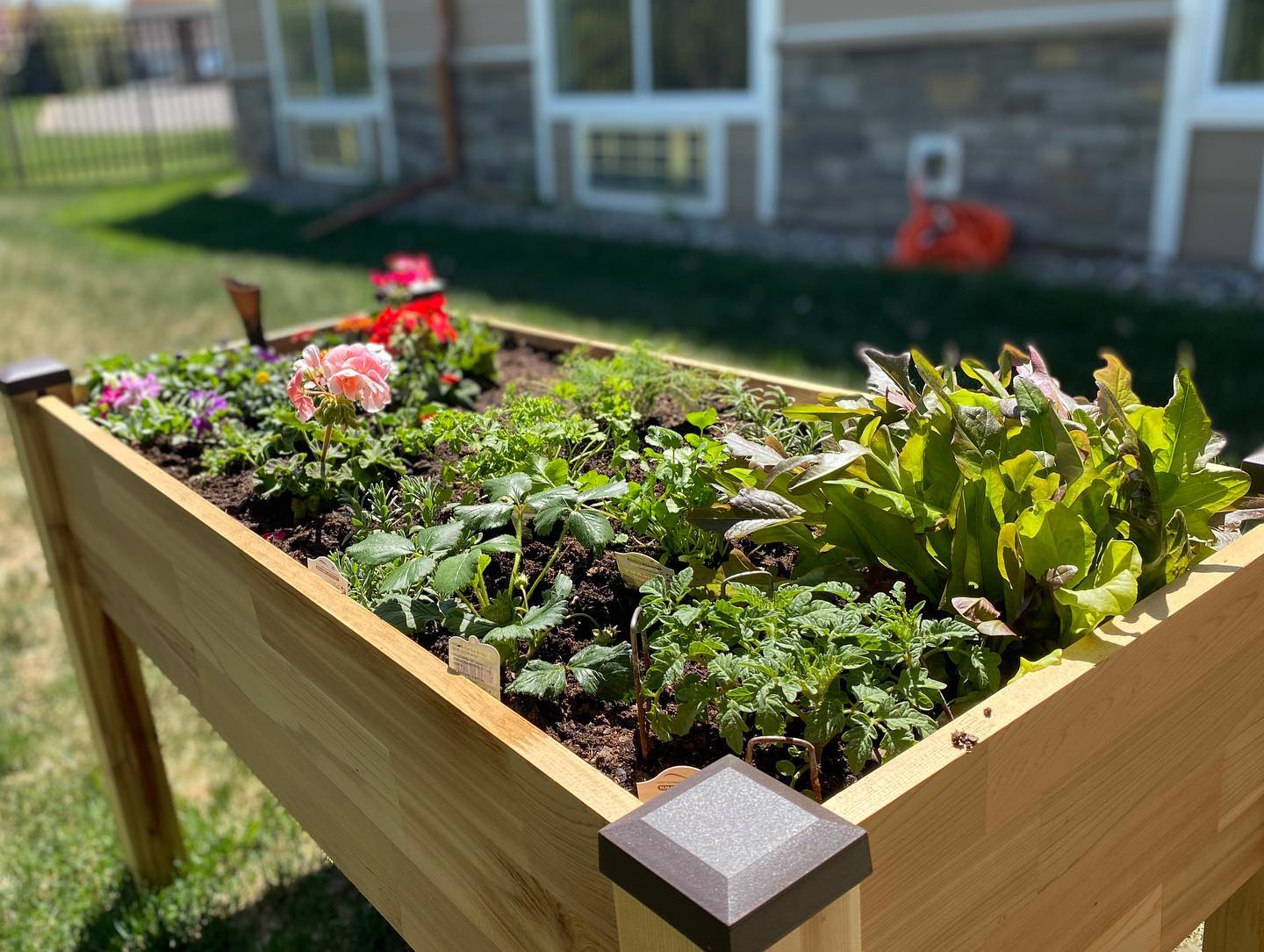 Pet-Therapy
Every Tuesday, Thursday and every other weekend, Huxley comes to visit us. He is our Life Enrichment Coordinators dog and is an emotional support animal. He has learned his routine in the building just as the staff and residents have. Providing a sense of overall emotional wellbeing with thanks to a thing called unconditional love. Many of our residents grew up with dogs around and it is comforting for them to see one around. There are many studies that show the beneficial qualities of animal and nature-based interactions for those living with dementia.

Exercise
The design of the building allows for a track to be used for walking at any time. The design of the building also offers the ability for multiple different spaces for group exercise classes whether that be in the dining room, sunroom, or living room. We always encourage the residents to participate in all activities including exercise. Our exercise ranges from traditional 55+ movements to balloon volleyball and everything that is capable in between. Our Life Enrichment Coordinator has a B.S. in Exercise Science, is a certified personal trainer through the American College of Sports Medicine (ACSM), and has her certification for Functional Aging Specialist through the Functional Aging Institute.
One Big Happy BeeHive Family!
At BeeHive Homes we believe that having a very active home brings the BeeHive family together and increased the health and joy of each resident. We recognize and celebrate the important days of our residents as well as all the holidays. Our activities provide residents the opportunity to connect, interact and socialize with the local communities, which enrich their lives every day. We take the BeeHive Homes activities programs very seriously and identify this as a key component of effective care in our home.
Home Page